香港議會籌委誠意邀請各位參加Clubhouse暢所欲言
Join us Saturday at 01:00 PM PDT for "HKP House 港議會 10.01.2023".
https://www.clubhouse.com/invite/QK7frq3LWdNXDJgpDjeqY7oOZw79UQkaoEy:RgO1vrCJ8guRanl5xQWp0j09_pa1JwH3O1YzenNJ1Js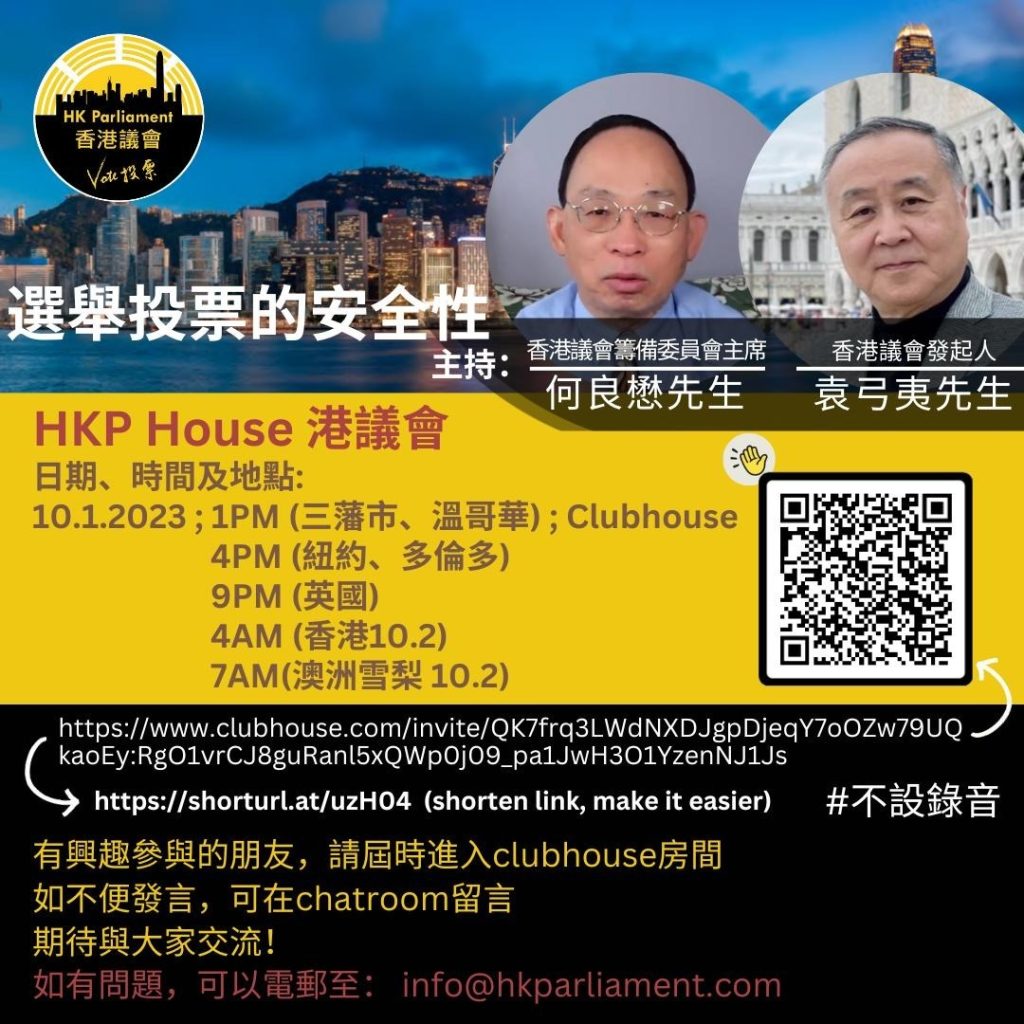 ---
大溫哥華地區街站:2023-9-15,4-6pm香港議會推廣日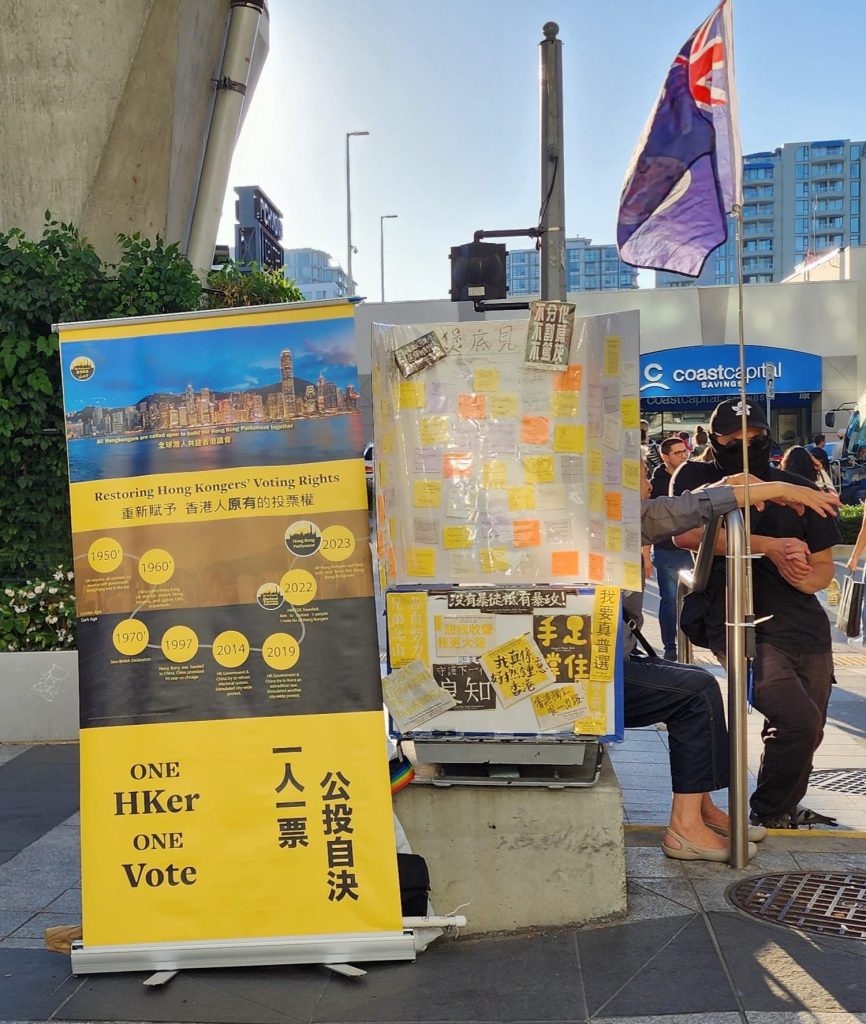 ---
大溫哥華地區9月15日在天車總站首設街站,向民眾推廣香港議會訊息。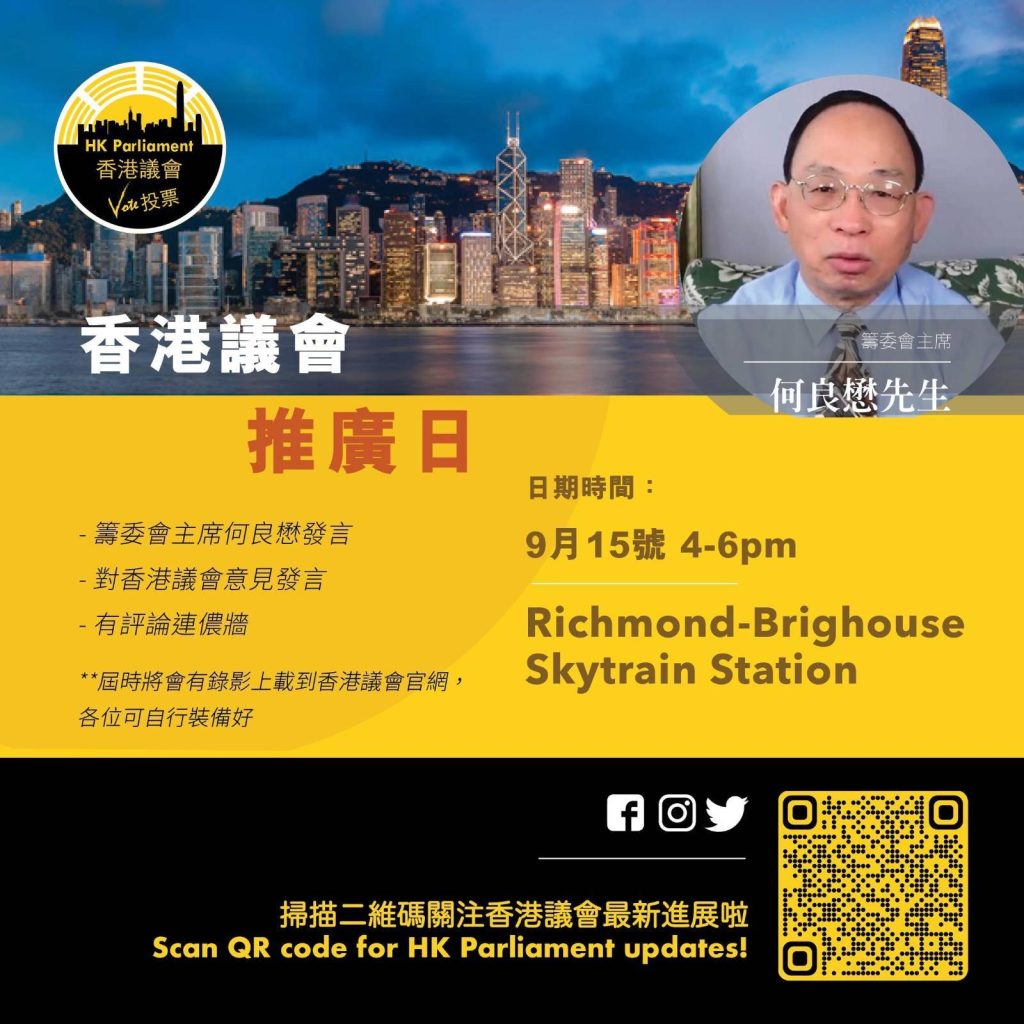 ---
香港議會籌委誠意邀請各位參加Clubhouse暢所欲言
Join us Saturday at 11:00 AM PDT for "HKP House 港議會 9.17.2023".
https://www.clubhouse.com/invite/K8icc4zK
---
香港議會籌委誠意邀請各位參加Clubhouse暢所欲言
Join us Saturday at 10:00 AM PDT for "HKP House 港議會 9.9.2023".
https://www.clubhouse.com/invite/VIsLhBkX
---
Release of Press Kit
---
Declaration of HKPEOC in Response to Defamatory Allegations
We, the Hong Kong Parliament Electoral Organizing Committee (HKPEOC), hereby address an issue concerning some recent malicious allegations against the HKPEOC which plausibly give rise to public's doubts casted upon HKPEOC's mission.
It has come to our attention that certain individuals have labeled our election plan as a "scam" in the absence of any concrete evidence. In refuting those unsubstantiated allegations, we are taking a firm stance that any, libel, slander, defamatory or unfounded allegations against HKPEOC or our individual member(s) will not be tolerated. We expressly reserve the legal rights to take action against the defamers.
HKPEOC is a non-profit and non-partisan organization established by Hongkongers living overseas for the purpose of facilitating the establishment of 'Hong Kong Parliament (HKP)' through universal suffrage. Our mission stems from the principles of representation, unity, and empowerment.
We vow to commit ourselves in serving HongKongers with a goal to recover democracy and self-determination for the community through transparent means.
We are aware of some individuals' concern since HKP is emerging with a novel concept, especially in the realm of politics. We hereby unequivocally state that those false allegations of our election plan being a "scam" are baseless and unmeritorious. With utmost sincerity, we openly invite those who are doubtful about HKP to constructively engage with us in good faith. Our door is open for dialogue and we are happy to clarify any questions surrounding HKP's functions.
We understand the importance of trust in any democratic endeavor. As such, we are dedicated to sustain the highest standard of integrity, accountability, and credibility throughout our journey. We hold ourselves accountable to all HongKongers, whether living in or outside Hong Kong.
We stand unwavering in our pursuit of democratic values and the well-being of our fellow Hongkongers. We call upon all HongKongers to come forward with a spirit of understanding and mutual respect. Together, we pave the way for a brighter future for Hong Kong.
The HKPEOC
22th Aug, 2023
---
The Hong Kong Parliament has already answered Ms. Fiona Yellow's questions on the Yuen Ho Talk Channel. Here, we respond again to Ms. Fiona Yellow's four questions raised to the Hong Kong Parliament:
1. I suggest that Hong Kong Parliament (HKP) conduct a public opinion poll to gauge how many people want the existence of the HKP.
The one-person-one-vote election advocated by the HKP is meant to assess how many people support the HKP. However, public opinion polls lack the rigorous mechanisms of online voting and are susceptible to manipulation. For instance, public opinion polls may not strictly limit individuals from participating multiple times, whereas the HKP's online voting system does not allow multiple votes from one person. Therefore, the results of public opinion polls may be less reliable than the one-person-one-vote election results using the HKP developed anonymous online voting. As a result, HKP believes that conducting another public opinion poll to assess support for the HKP is unnecessary.
2. The primary election of the Hong Kong Legislative Council (LegCo) in July 2020 had 600,000 votes; why does Elmer Yuen think the HKP has 1 million votes?
Firstly, there is no necessary correlation between the number of votes obtained by the primary election and the HKP, even though both occurred after the implementation of the National Security Law. The 1 million votes Mr. Yuen mentioned is merely an expectation to encourage more Hongkongers to exercise their voting rights. However, in comparison with the primary election of LegCo, the HKP has implemented a secure online voting system that ensures voter safety, prevents personal information leakage, and includes eligible voters from both within and outside Hong Kong, transcending geographical limitations, such as Hongkongers who have lived in Singapore for many years. The definition of Hongkongers also varies, so the pool of eligible voters has expanded. Additionally, the HKP is a fair and transparent platform that provides elected representatives with more representativeness when speaking in the international community. The HKP believes that this platform is anticipated and supported by Hongkongers who have been deprived of their voting and election rights. The HKP emphasizes that the number of voters is not the most important factor; rather, the entire arrangement and promotional process provide Hongkongers with a valuable civic education opportunity, fostering unity among them and working together to achieve one of the five demands from the protesters in 2019, the genuine universal suffrage.
3. Who will be the candidates of the HKP election?
Some individuals have already expressed their intention to run. HKP will publicly promote and encourage individuals who are willing to serve the Hongkongers to run for office. We hope to have more candidates, but the public call for candidacy has not yet started at this stage. Therefore, it is difficult for the HKP to predict how many people will run at this time.
4. How will the HKP be implemented?
Due to the threat of the National Security Law, Hongkongers are relocating around the world. Although the HKP does not have a physical geographical basis, internet technology can connect Hongkongers residing worldwide. Representatives can discuss policies and engage in international lobbying work through online meetings. Furthermore, with substantial grassroots support, the HKP can apply for financial assistance from democratic countries, as has been the case with the Tibetan government in exile. Additionally, the HKP is an innovative concept with a state-of-the-art online voting system and parliamentary format, allowing even people under authoritarian rule to exercise their right to express their opinions.
Finally, the HKP hopes to collaborate with former legislators, key opinion leaders (KOLs), and scholars to jointly establish a democratic platform that brings together individuals with different political views to work towards the liberation of Hong Kong. The organizing committee welcomes Ms. Wong's continued constructive feedback and mutual encouragement and support.
---
Simon Cheng: Actively considering running for the Hong Kong Parliament
Simon Cheng, founder of Hongkongers in Britain, said that he will actively consider running for the Hong Kong Parliament election
---
Elmer Yuen: The responsibility for the success or failure of the Hong Kong Parliament lies with the people of Hong Kong
Hong Kong Parliament election targeting 1 million votes by the end of the year
---
NTD UK News Full Broadcast (Aug. 1)
We hear from Elmer Yuen, initiator of the Hong Kong Parliament and on China's wanted list. He says his arrest warrant has only given him more publicity. (07.00-14:00)
---
Hong Kong dissidents in UK launch government-in-exile to 'take down' Chinese Communist Party
The Hong Kong parliament's initiator, Elmer Yuen, said it aimed to 'take down the communists and regain freedom for Hong Kong
---
The Canadian Press interviews on Elmer
Elmer Yuen called on the Canadian government to abolish its extradition treaty with Hong Kong
---
Petition by the last Hong Kong District Councilors
The Hong Kong Legislative Council Committee believes that Hong Kong people should no longer recognize the legitimacy of any parliament under the authority of the Hong Kong Communist regime. Therefore, it requests all countries around the world to cease recognizing the status of the Hong Kong 'Executive Council,' 'Legislative Council,' and the new 'District Council,' and to no longer acknowledge these parliaments as legitimate representatives of the people of Hong Kong. At the same time, Hong Kong people should support the preparation of a genuine Hong Kong parliament, elected by one person, one vote, to represent the voice of the Hong Kong people.
Here is the petition by Last Elected Hong Kong District Councilors:
Petition by Last Elected District Councilors on Urging Global Governments to Stop Recognize Any Claimed Electoral Councils from Hong Kong
On July 6, 2023, the "Hong Kong Legislative Council," a system without any legitimacy as it only allows pro-Beijing individuals to participate, passed amendments to the District Councils Ordinance, effectively eliminating any opposing voices. This not only transformed district council elections into a system where only pro-Beijing candidates can run but also reintroduced the appointment system that had been abolished in 2013. Additionally, through significant redistricting, the number of seats generated through the aforementioned "elections" was drastically reduced, marking the official demise of Hong Kong's last remaining democratic council institution. This action by the Chinese Communist Party and the Hong Kong government clearly violates the promises of "One Country, Two Systems" and the "Hong Kong Basic Law" to progressively advance democratic elections.
However, despite these circumstances, many countries, unaware of the background, continue to treat these so-called "legislators" and their "legislative bodies" as equivalent counterparts to their own relevant parliamentary institutions. They extend formal treatment, such as responding to their correspondence or conducting interviews, without recognizing the human rights violations committed by the Chinese Communist Party and the Hong Kong government. This includes but is not limited to endorsing the deprivation of Hong Kong people's rights to vote and be elected.
As a majority of Hong Kong people no longer acknowledge the legitimacy of the government and legislative bodies, we, as members of the last democratically elected council members in 2019, hereby call on all nations to cease recognizing the "Executive Council," "Legislative Council," and the "District Council" established by the Hong Kong government, effective from January 1, 2024, as well as any future so-called legislative systems produced by the Hong Kong Communist regime. This includes refraining from any acts of recognition, such as considering their correspondence credible or granting official meetings with government officials, council members, and lawmakers, along with associated privileges. We urge the world to demonstrate non-recognition of these organizations and individuals, as they no longer possess any legitimacy to represent the people of Hong Kong, and to uphold the values of nations that respect freedom, democracy, and human rights.
Signatories: Last Elected Hong Kong District Councilors
Central and Western District – Hui Chi-fung Ted
Central and Western District – Yip Kam-lung Sam
Central and Western District – Ho Chi-wang
Wan Chai District – Clara Cheung
Eastern District – Lai Chi-keung
Eastern District – Choi Chi-keung
Yau Tsim Mong District – Lam Siu-ban
Sham Shui Po District – Lee Man-ho
Sham Shui Po District – Yan Kai-wing
Tuen Mun District – Michael Mo
Tuen Mun District – Tsang Chun-hing
Yuen Long District – Lai Kwok-wing
Yuen Long District – To Ka Lun
Sai Kung District – Ryan Lee
Sai Kung District – Wong Cheuk-nga Valarie
Sha Tin District – Hui Yui-yu
Sha Tin District – Man Yau
Sha Tin District – Ting Si-yuen
Sha Tin District – Tsang Kit
Kwai Tsing District – Kwok Tsz-kin
Kwai Tsing District – Chow Wai-hung
(*Due to the universal application of the National Security Law, 3 anonymous last elected Hong Kong district councilors support this joint statement. Last Update: 20230710 1500)
July 8, 2023
---
Elmer Yuen's declaration on illegal warrants
The Chinese communist party is an international Criminal syndicate which violates human rights. It unlawfully commands the pseudo-government of Hong Kong to issue warrants (for the arrests of 8 Hong Kong citizens now living abroad) which no free countries will recognize or execute.
After Hong Kong is revived, the National Security Department's officers will be on the wanted list and criminally prosecuted for having gravously violated human rights.
Elmer yuen
3rd July, 2023
San Francisco, US
---
US Congress News: CECC recommends sanctions on a list of 29 Hong Kong national security law judges
US Congressional and Executive Authorities China Commission (Congressional-Executive Commission on China, CECC) held a hearing on the Hong Kong issue on May 11, 2023. The chairman of the commission, Chris Smith, urged the US government to impose sanctions on 29 national security law judges who have undermined the rule of law in Hong Kong.
According to the CECC report, the Hong Kong version of the national security law has been used as a tool to suppress civil society and dissenting voices since its implementation in 2020. Many provisions and contents, such as denial of bail, have undermined Hong Kong's own legal system, and the designated judges under the national security law have become accomplices in undermining the rule of law in Hong Kong. The report lists the known 29 designated judges under the national security law and recommends that the US government impose sanctions on them (see the table below).
Johnny Chan Jong-herng (陳仲衡)
Patrick Chan Siu-oi (陳兆愷)
Wilson Chan Ka-shun (陳嘉信)
Andrew Chan Hing-wai (陳慶偉)
Stanley Chan Kwong-chi (陳廣池)
Cheng Lim-chi (鄭念慈)
Andrew Cheung Kui-nung (張舉能)
Anderson Chow Ka-ming (周家明)
Carlye Chu Fun-ling (朱芬齡)
Joseph Paul Fok (霍兆剛)
Veronica Heung Shuk-han (香淑嫻)
Susan Kwan Shuk-hing (關淑馨)
Kwok Wai-kin (郭偉健)
Johnson Lam Man-hon (林文瀚)
Peter Law Takchuen (羅德泉)
Alex Lee Wan-tang (李運騰)
Derek Pang Wai-cheong (彭偉昌)
Anthea Pang Po-kam (彭寶琴)
Jeremy Poon Shiu-chor (潘兆初)
Susana Maria D'Almada Remedios (李素蘭)
Roberto Alexandre Vieira Ribeiro (李義)
Victor So Wai-tak (蘇惠德)
Don So Man-lung (蘇文隆)
Frank Stock (司徒敬)
Esther Toh Lye-ping (杜麗冰)
Adriana Noelle Tse Ching (謝沈智慧)
Amanda Jane Woodcock (胡雅文)
Ada Yim Shun-yee (嚴舜儀)
Wally Yeung Chun-kuen (楊振權)
Source: CECC、HKSAR Government、RFA